Do you know the feeling of déjà-vu? I do, often.
One of the last episodes was about the period when sitting with my brother and two friends I was preparing to spend the Thursday afternoon pre-homework with Doctor House.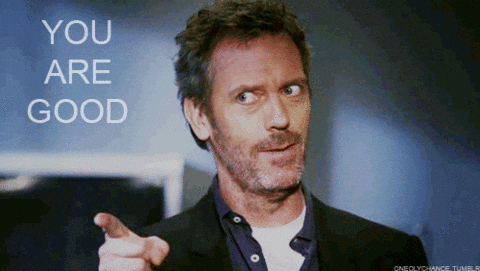 It was the first months of school so the teachers were still quite merciful, and the four of us could easily spend two hours of our afternoon in front of the tape recorder and without any spoilers from the evening before.
Good times when you didn't find the whole episode on all social networks two minutes after the broadcast ends!
In any case, I was in my parents' kitchen with my brother while my mother was baking an almond pie * and I really had the feeling that all that had already happened, and that the two friends would soon come to start the vision.
It lasted a moment, then I realized that a lot of things were actually different, starting with the fact that I haven't been to high school in… well, a long time. To end with the fact that I don't even talk to one of the two guests anymore … this is life, maybe it was just the love for Doctor House that kept us together …
The love for the series with Hugh Laurie (101 Dalmatians, Stuart Little) was actually a consequence of the love for Grey's Anatomy. In fact, initially it happened that we also accidentally recorded this second med series with this rather unusual doctor, and we only met to postpone homework a little longer.
It was love at first sight, and since then every Thursday has become our regular date.
What hit us was the absurdity of the cases presented, in which the patients brought by House's team before recovering were subjected to torture that nearly killed him. It had also become our bet to predict at what point of each episode Lupus[1] would be proposed as a diagnosis!
FOREMAN: DO YOU HIDE THE PILLS IN THE LUPUS MANUAL?
HOUSE: IT IS NEVER LUPUS.
House's character is wisely constructed, overly cynical, lame due to an incurable leg injury that causes him to use a cane and a large stock of Vicodin, a powerful pain reliever. A team that varies over the seasons rotates around him. He is loved, or hated, heartily in both cases.
Those who love him do it because the character is redemptive, he does everything we would like to do in everyday life. Those who hate him do so because they cannot stand the extreme frankness of the character, his rationality and, perhaps, a little afraid of coming face to face with someone like that sooner or later.
I like him because he is a fictional character and because 8 seasons and 177 episodes later, I am still as affectionate of this series as if I had just seen the pilot! But if I found someone like that in real life, I'd probably slap him.
On the ethics, if we can call it that, of the nephrologist, hundreds of university theses have been written in disparate faculties, from Philosophy to Medicine, from Psychology to History of the Show … to Theology, a sign that for better or for worse is a character that works!
HOUSE: PEOPLE DO NOT HAVE WHAT THEY DESERVE, THEY HAVE WHAT HAPPENS TO THEM. AND NONE OF US CAN DO NOTHING
The déjà-vu has me so dismayed that I asked my brother to go and review some episodes, choosing the most absurd cases, with the freshly baked dessert to keep us company, and it was nice to go back to the past, even if only for a day.
* ALMOND PIE
(the recipe is from my mom, Mena)
Ingredients for a semi-sphere mold with a diameter of 22 cm
-250 g of chopped almonds
-160 g of sugar
-40 g of honey
-40 g of butter
-25 g of flour
-5 whole eggs
-2 tablespoons of dark rum
-1 sachet of yeast
-1 lemon
-1 vanilla pod
-1 orange
-1 pinch of cinnamon
-1 pinch of salt
 For coverage
-150 g of white chocolate
-150 g of toasted almonds
PREPARATION
We toast the almonds in the oven at 160 ° C for about 15-20 minutes, then let them cool. Once cold, we mince them with a food processor until they are reduced to thin flakes. Separate the yolks from the whites and with the help of a whisk whisk the egg whites until stiff and then keep them in the refrigerator. We work for about 10 minutes with the whisk the egg yolks with sugar and honey until they are frothy and very clear. We combine the vanilla seeds and knead everything. We mix the chopped almonds with the flour, the baking powder and the grated peel of a lemon and an orange, a generous pinch of cinnamon and then add it all slowly to the whipped egg yolks, using a spatula. We pour the dark rum and mix everything, finally add the melted butter slowly. Incorporate the egg whites into the dough until stiff, making sure to mix from bottom to top to prevent the dough from falling apart. Grease and flour a donut mold and bake in a hot oven at 180 ° C for about 40 minutes.
Once ready, let it cool without removing it from the mold. Once cold, we arrange it on a grill. To cover it, melt the white chocolate in a bain-marie and then pour it over the almond, trying to distribute it with a spatula over the entire outside of the cake. Roughly chop the toasted almonds and spread them over the entire white chocolate coating. They must cover all the dessert well. We let it cool to room temperature. Once cold we can enjoy it in front of the TV!
---
[1] https://www.mayoclinic.org/diseases-conditions/lupus/symptoms-causes/syc-20365789#:~:text=Lupus%20is%20a%20disease%20that,%2C%20brain%2C%20heart%20and%20lungs.