Apple strudel with phyllo dough
(the recipe is from my dear friend Anna)
Ingredients for 6 servings:
-5 medium sized green Granny Smith apples
– the juice of 1/2 lemon
-150g of granulated sugar
-1 teaspoon of cinnamon
-1 teaspoon of vanilla sugar
-1 tablespoon of flour
-20g of melted butter
-80g of raisins or sultanas
-3-4 sheets of phyllo dough
-1 beaten egg with 3 tablespoons of milk
– icing sugar to taste for dusting
Method:
First, we heat the oven to 220 ° and we grease or line a rectangular cookie sheet with parchment paper.
We peel the apples and cut them into 4 large wedges, remove the core and then cut into very thin wedges. in a dish and sprinkle them with lemon juice.
We mix the granulated sugar, cinnamon, vanilla sugar and flour and pour the mixture into the plate of apples. We mix well to cover them with the mixture, then add the raisins too. We spread a first sheet of phyllo dough on a work surface and brush with butter. We lay the second sheet on top and brush that too; proceed in the same way for the third and fourth sheet. We spread the apples lengthwise on one of the two sides and roll up the strudel starting right on the side with the apples. Once everything is rolled up, brush the entire surface with the egg and milk mix, focusing in particular on the edge, in order to seal it well. Transfer the strudel to the greased pan. We bake and cook the strudel for 25 minutes or until it is golden. Remove from the oven and leave to rest for at least 20 minutes before slicing. Just before serving, sprinkle with icing sugar.
As Bree would say, we never show up at people's homes empty-handed. Even if it's your home. So, everyone in the kitchen to prepare a delicious apple strudel, a fruit so dear to the protagonists of the series of which we are going to have a feast!
The apple, symbol of sin, is the backdrop to a series of secrets and mysteries all well hidden under the carpets of the rich houses of Wisteria Lane, an imaginary upper-class neighbourhood, shaken by the sudden and unpredictable suicide of one of the most fashionable inhabitants: Mary Alice Young. Why did she kill herself? What is it that the cold Bree, the fashionable Gabrielle, the illustrator Susan and the only real desperate housewife Lynette have not understood?
For eight cutesy seasons (2004-2012), Desperate Housewives kept anxious housewives (and meddlesome husbands) on the screen, becoming a first-time media event that acclaimed illustrious fans such as ex-first lady Laura Bush. A series sui generis, difficult to categorize (halfway between soap-opera, comedy noir and thriller)
You may be wondering how they got eight seasons around this, well they didn't, this mystery opens and closes in the first season, then another one comes and another and another … and so on, each season could somehow be watched on its own, were it not for the wonderful growth of the main characters who progressively build their own identity and reveal a little more of themselves to us. As the series will teach us several times and in different forms, appearances always betray: the characters that are presented to us have infinite surfaces.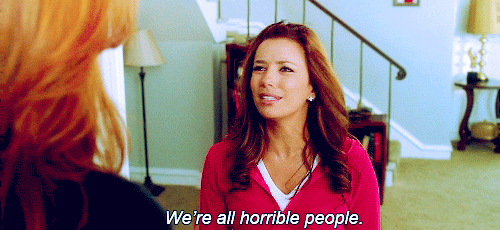 I love Bree, I have an affection for her, although in some seasons the character played by Marcia Cross has gone completely off the designated path, but Lynette's story is also really interesting and well-constructed, and what I admire most and for which I recommend the series, is that despite the tones of the soap opera, it never fails to address crucial issues of modernity, such as suicide, adoption, anxiety, obsessive compulsive disorder, the woman divided between family and career, the homosexuality, unwanted pregnancies and so on. With light tones and no pretence of moralism, Desperate Housewives succeeds where others have failed.
When they announced the final season, I was happy, because in the life of four desperate housewives (even if not too much desperate, given the success in business, in love, with children, etc.) how many misfortunes and catastrophic events can happen? (the episode tornado still I dream of it at night !!); but then I missed them, by now it was as if they were really my gossipy and at times annoying neighbours. And so, every time rai4 proposes the replays (with a criterion of random seasons) I find myself cooking a dessert, often a strudel, and dedicating myself to my old friends.
This is the right TV series first of all for those who love sweets, cooking, being in control, investigating, for people who love gossip, especially if it is stained with black.
Think you know everything about your neighbours?
I wouldn't be so sure… but I don't recommend you investigate. Better focus on the people of Fairview …
It is the TV series for those who are unsure about what genre to watch and a bit like spring which is a bit hot a bit cold, this show satisfies everyone a bit, like a well-ironed cardigan that you can if necessary, put on the shoulders. Or well placed in the bag.
But be careful that it does not wrinkle …