* Tasty sandwiches
(the recipe is from my friend, Anna)
Ingredients:
– 400 g of canned tuna
– 500 g of mayonnaise
– 400 g of raw ham
– Thin slices to taste
– Pan bauletto or other sandwich bread without crust

Preparation

First, pour the tuna into a bowl, making sure it drains the oil, also crushing it with a fork to help the process. Once dry, add the mayonnaise and mix well to make the sauce creamy and without lumps. Once again we can help with the fork. Cut each slice of bread by two and spread the tuna sauce on top, then add half a slice of raw ham, half a thin slice and close with the other half of a slice of bread. We proceed like this until we finish the ingredients.
This simple but very tasty snack is suitable for the whole family, as a snack or aperitif.
The very first time I went to my friend Anna's house, as a good southern guest she made me find a 7-course lunch (dessert excluded), although I was used to the experience thanks to my origins and my relatives, I was still shocked the quantity and quality of the food on the table. But, I remember, that what struck me most of all that goodness, were the very simple sandwiches *. A pleasure on the palate, an explosion of taste. I ate at least ten, regretting it bitterly because her mother still wanted me (rightly) to taste everything else too, and since then, despite being six years or more, every time I go down to see her I enjoy the sandwiches as if it were the first time.
Some time ago I happened to prepare them in my turn for guests and they too were delighted, a sign that no matter how fashionable a super elaborate dish may be, it is simplicity that reigns supreme.
In the kitchen, as in the TV series. I'll explain. Lately we expect TV series with great special effects, we are fond of the post-production of GOT, the photography of 22.11.63, the time jumps of LOST, and we are almost bored when something more "normal" is proposed to us, a priori we are pushed towards adrenaline and the unknown. First. But just watching a TV series pilot without extraordinary special effects, without millionaire post-productions like American Crime Story: The People vs OJ Simpson, to understand once again that simplicity is what we really like!
This is a TV series without mysteries, we all know the verdict (unless we lived on another planet …), we also know what the consequences were, what about those "characters" today, but despite this it is one of the highest quality products I've seen in the last year!
Cast[1], incursions of real pieces, harmony of the narrative, nothing is left to chance, from the pilot to the epilogue we witness a process that is already written, already marked, yet with each episode we get passionate, we wonder how it is possible that it went just that way.
For this reason, after a couple of episodes, my roommate Federica and I agreed that the perfect snack to fully enjoy this show was those simple, well-known, yet always delicious, sandwiches that Anna prepares for us every time one of us goes to. her house.
American Crime Story is a kind of format-franchise[2], an anthological series, like its predecessor American Horror Story holds a common thread but each season speaks of something in itself. The second season, for example, will be about the Versace crime, the third, it seems, about Hurricane Katrina. What links the various plots are the trials, the injustices and the fact that they are all true stories[3]. Among other things, the series has racked up awards, not only has it brought home 22 nominations at the latest Emmys, but has also recently won two Golden Globes, one for Best Miniseries and one for Best Actress to Sarah Paulson[4].
OJ Simpson. A name, a story, almost a legend. It is still used today as an example in the courts and beyond. But how did it really go?
Ryan Murphy tried to tell us as faithfully as possible, taking a cue from the novel by Jeffry Toobin: The Run of His Life: The People v. O. J. Simpson.
The first episode of the first season was released on February 2 of this year and it is no coincidence: on the same day in 1985, in fact, O. J. Simpson and Nicole Brown were married! Federica and I, however, started it in April, as if to inaugurate the new house with a TV series in common, and I found it reassuring to have seen it in Spring because after each episode we both needed a long walk and the climate was rather auspicious; we needed it because some episodes are rather harsh, for the topics covered: racism, sexism, police violence; both for the obvious injustice that is felt episode after episode. I like the parallelism with everyday life, the live television of the arrest and hearing was the big news of the time, complete with NBA finals suspended to connect with the shadowing of the OJs Bronco, that was the beginning of the end for media processes. How many programs do you count today on news events that really happened?
Today the sentences are made on TV, on social media, before in court. And I think showing us how this process started is both intelligent and overwhelming.
The thing that struck me most is how during the ten episodes we very often forget that the accusation is of double homicide, it is as if Nicole were a Serie A victim and poor Ronald Goldman from Serie B.
Another point that I would like to emphasize is the performance of Sterling K. Brown (_ This is Us) in the role of Chris Darden and David Schwimmer (Friends) in that of Robert Kardashian, almost all the performers are quite disturbingly similar to the originals. , but the two of them were so good, so real in their interpretations, that it made me forget more than once that this was a fictional version and not a docu-film!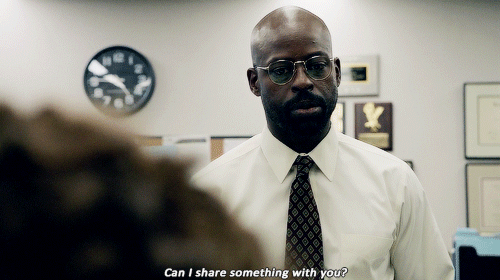 As I said, it is a TV series without mysteries but I assure you that you will be perpetually in tension, even knowing how it ends, you will get very angry, you will reflect and you will be moved. So for the upcoming Spring I recommend finding other people who are passionate about crime, legal in particular, prepare lots of tasty Anna-style sandwiches, and start a vision of the process of the century, which I'm sure will trigger debates, discussions, tears, laughter and it will keep you glued to your screen as if it were live!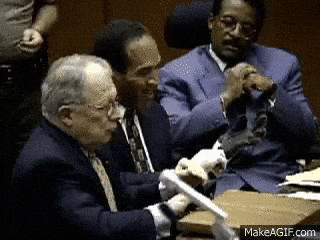 ---
[1] https://en.wikipedia.org/wiki/The_People_v._O._J._Simpson:_American_Crime_Story#Cast
[2] Format born in the 50s / 60s in America, first on radio and then used by television productions.
[3] As this was a true crime from the 1990s, the main actors wanted to meet all those who were really involved in the process in order to better study their interpretations. However, the protagonist Cuba Gooding Jr., interpreter of OJ Simpson, has decided not to meet the football player and film actor.
[4] The real lawyer, Marcia Clark, said watching the first season of the series made her think a lot about some of her own moves during the trial. She also complimented Sarah Paulson for the interpretation of her character and with the entire production for having faithfully shown the sexism shown towards her in those years
---
O.J. Simpson ended up in prison anyway: he is currently serving a 33-year sentence for armed robbery and kidnapping.