* Waffles with Berries Top
(the recipe is from my English friend, John)
Ingredients for 4 square waffles:
-90 g of flour 00
– ½ teaspoon of vanilla baking powder
– 40 g of sugar
– 1 egg
– 30 g of melted butter)
– 95 ml of milk
– a pinch of salt
– vanilla
To garnish:
-berries
– powdered sugar
– berry topper
Method
In a large bowl mix the dry ingredients: flour, sugar, yeast, a pinch of salt while in another bowl mix together the egg yolks with sugar, melted butter, sifted flour alternating milk, baking powder and vanilla. We turn well until the mixture is homogeneous and without lumps. Gently add the whipped egg whites to the batter, with a movement from the bottom upwards so as not to disassemble the mixture and transport everything in a jug to dose the mixture. We turn on the waffle maker and brush the hot plates with melted butter, removing the excess. Pour the necessary amount of mixture into the plates, and let it cook for 3 or 4 minutes.
Finally, we garnish with powdered sugar, fruits and berries top.
Usually, my breakfast is cold latte macchiato and cereals or biscuits with jam, but sometimes, especially on Sunday mornings, it happen to test with some foreign dish. From pancakes to muffins, from bacon to waffles *.
These in particular I prepare them when I plan to have a mega banquet of New Girl, the sparkling and funny sit-com created by Elizabeth Meriwether starring the beautiful and talented Zooey Deschanel and her unlikely roommates.
It all started on a spring morning four years ago (how time flies eh!) In which the allergy had particularly knocked me down and with watery eyes from conjunctivitis, thin nose and sore throat, I was lying down in my bed. I had turned on the TV just for company, not having the ability to follow it, stoned even by medicines; I remember the acronym that planted in my head like a Chinese drop, I remember the rumors and the initial situation, then I remember waking up with the smell of waffles coming from the neighbors' house and getting up with the determination to prepare them. Once we were ready, I looked for this bizarre series that had accompanied me to Morpheus and, this time feeling better, I enjoyed it and it make me lots of laughs.
Because Jess is one of us! She is a cute but unaware girl who attracts bad luck like a magnet and who lives with three guys for economic and sentimental reasons[1].
She is meddling, funny, clumsy, strongminded, and very well represents the group of thirty-year-old who on the one hand try to prove herself settled by paying the rent and going to work, on the other hand they do not give up their childish and carnival side, in this case symbolized at least questionable clothing. But for example, in my case from the infinite collection of books, objects and gadgets belonging to the HP saga….
Not to mention the three men in the series: Nick (Jake Johnson) is the classic lazy man who if could really do some good for society if only he tried, but he's settled into a comfortable position. Schmidt (Max Greenfield) is a former fat kid now obsessed with appearances and image, ambitious but completely unprepared for social relations. Coach (Damon Wayans jr – later replaced by Winston (Lamorne Morris), an adorable immature, super sweet goofy) is the classic Latin-lover obsessed with fitness, superficial and slightly male chauvinist.
They well represent the types of men one can meet once they finish their studies and while obviously being exasperated to make the plot and the plot always hilarious, I found them alarmingly realistic.
More than once I have been introduced to "friends of friends" obsessed with lotions, with fifteen beauty products in the bathroom, and considering that I, a woman, have barely three … imagine my discomfort. Not to mention guys who on paper have infinite potential but their best afternoon is drinking beer on the sofa while watching sports on TV.
You feel less lonely watching Jess get tangled up in relationships without rhyme or reason, having to go from exciting jobs to temporary jobs and internships in order to pay the rent. Supporting her best friend, the beautiful very tall model Cece[2] (Hanna Simone – who obviously turns out to be nice too…). Ask yourself if at the end of the fair all these sacrifices are worth them.
Obviously being fiction there is always, always a happy ending …
… life is slightly more intricate than that, friends don't always live in the next room, they don't have a bar to let off steam and you don't find different guys at every episode …
How much I would like to learn to play True American and thus solve every problem in life …
But perhaps they like it just because of this mix of familiarity to reality and its difficulties and the obvious smattering of positivity so that even what apparently seems to be the unluckiest of days is transformed into a life opportunity.
The smell of waffles coming from the neighbors led me to get out of bed and react, Jess encouraged me to go out and look for the positive side of a season that could seriously kill me every year. And in hard times I do a re-watch of the funniest episodes telling myself that having huge eyes and a good girl face too, I will be able to have everything in life, like Jess. And like her I will continue to protest anyway!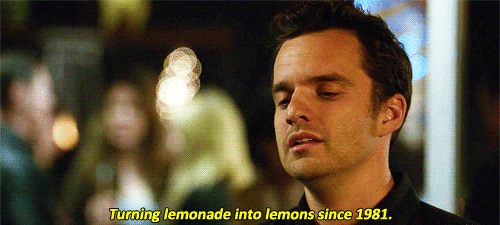 Every spring the New Girl keeps me company and I am very sorry that the seventh will be the last season planned[3].
But after all, there's Netflix, so I can eat waffles along with the components of the 4D apartment at 837 Traction Avenue LA, whenever I want!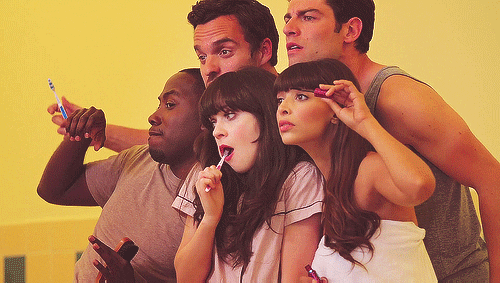 ---
---
[1] In June 2011, after watching the pilot episode, New Girl was named one of the "Most Promising New TV Series" by a panel of critics at the 2011 Critics' Choice Television Awards.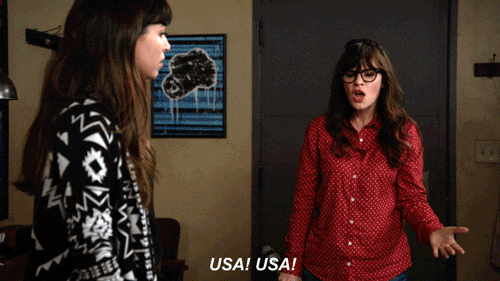 [2] I have often had the impression that Cece's path was very similar to that of the character of Summer in THE OC, in fact both should have been the classic beautiful but stupid. A little dolls without infamy and without praise. But with the passing of the seasons both have become more and more preponderant within their respective shows, almost surpassing the protagonists! Summer even outlives Marissa, winning the title role by right, developing a sudden intelligence and wisdom and entering the hearts of viewers. Cece, while never completely replacing Jess, has at least become her equal, thanks also to her bond with one of her roommates. I find it very interesting how the producers change their minds in the middle of the show and decide that all in all, women can be both beautiful and interesting. Is the prejudice finally overcome?
[3] It seems that it will be set three years after the finale of the sixth, and will only consist of 8 episodes, which is intriguing and disturbing!