Have you ever been to Sorrento in July? with the scent of lemon that spreads everywhere, it mixes with the sea, with fish, with the fried food of street vendors, with freshly baked biscuits.
Have you ever been on one of the wonderful terraces looking at the Golfo, sipping limoncello * and enjoying mozzarella in carrozza[1] or other specialties?
No?
What are you waiting for?
Life is one and some whim must be satisfied!
Summer is still far away, although the first days of intense heat are coming – even if go together with three or four days of rain and cold. – But, by booking now, perhaps, a trip to the Sorrento's coast will not cost you a fortune.
There is something magical in the scent of lemons at sunset.
Or maybe it's simply the idea of a holiday, of relaxation, which I don't see on the horizon this year and to which I only have to cling to through books and TV series …. In any case, since I started reading Elena Ferrante's tetralogy, "The brilliant friend", I feel like I'm in the middle of summer with my sundress, my limoncello and my feet in the water.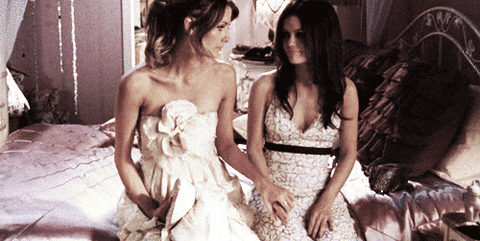 "There was something unbearable in the things, in the people, in the buildings, in the streets that, only if you reinvented it all, as in a game, became acceptable. The essential, however, was to know how to play, and she and I, only she and I, knew how to do it."
― Elena Ferrante, My Brilliant Friend
In reality, the narrative runs through all seasons, a very long period of time, from childhood to old age of the two protagonist friends: Elena Greco, called Lenù and Raffaella Cerullo called Lina or Lila; far and wide from Naples to Florence to Milan to Paris.
In any case, it makes me want to sit on a terrace in Sorrento listening to the breath of the sea.
The book, with its direct language, took me back to my childhood in which I used to get dirty in my grandparents' court, between dust and mud, in a small town in Naples where there were shady characters and meddlesome neighbors. Where everyone knew everyone and where the new generations destined for studies seemed privileged. Untouchable. A village that was certainly not as disadvantaged as the district that Ferrante describes, but which was certainly not as bright and modern as Rome …
And then the rebellious adolescence, the differences with my cousins, for example, the desire to leave, always and in any case. The country that was close to me. And the city that was holding me tight. The entire universe seemed to hold tight to me and writing was the only possible consolation.
And again, adulthood, with the search for stability, a confused head: responsibilities.
Lives and eras that are completely different from mine and those of Elena and Raffaella, yet I can't help but see myself in some choices, get passionate about their loves, get angry about some evaluations.
"She took the facts and in a natural way charged them with tension; she intensified reality as she reduced it to words, she injected it with energy."
― Elena Ferrante, My Brilliant Friend
To understand that with your best friend there is always a bit of love and a bit of conflict.
With its flaws, the best friend is a part of us. Elena and Lila are different that could not be more different, and yet, they complete each other, cancel each other out, tear themselves apart, recompose themselves. Friendship is complicated, it fluctuates but it is the greatest strength a person can have together with the family. Sometimes, indeed, more and more often, it is more indispensable than love.
Therefore, Ferrante ultimately does nothing but tell us a story that is already ours. As if Elena sat next to us, on the terrace of Sorrento, to tell us about Lila, the district, her daughters, Nino, ah Nino…. Of Naples, of Italy and of politics, of feminism.
"Children don't know the meaning of yesterday, of the day before yesterday, or even of tomorrow, everything is this, now: the street is this, the doorway is this, the stairs are this, this is Mamma, this is Papa, this is the day, this the night."
― Elena Ferrante, My Brilliant Friend
And we listen, we are waiting to know the details, to understand who managed to make it and who didn't, if and how much Naples has changed, the nation has changed, the political scenery has changed.
We pay attention to her as with a grandmother who at the end of her days decides to pass her memories on to her grandchildren.
Sometimes life is as complicated as a novel. Even more. So, nothing that we find written in this tetralogy astonishes us or upsets us, but its strength lies precisely in realism, in the ability to reveal to us what was already in front of our eyes.
I fell in love with this story. And I honestly believe that I will miss Lila, Nino, Elena and the rest of the ward.
I will miss them above all because they gave me the summer. A very long summer out of season.
And for that I thank them.
*LIMONCELLO
(the recipe is kindly granted by my mom, Mena)
Ingredients
-300 ml of alcohol
-200 g of sugar
-200 ml of water
– peel of 8 early season lemons
Method
We pick the untreated lemons of the season, prepare an infusion with the peel and alcohol; let it sit for a week or two; then we resume the infusion and heat the water, let the sugar melt over low heat. As soon as the syrup obtained has cooled, we work it with the infusion and leave everything to rest for about 15 minutes.
Finally we place a cloth handkerchief or a very fine rag over a funnel and pour the liquor into the bottles.
---
---
[1] https://www.nigella.com/recipes/mozzarella-in-carrozza typical italian food