I have been thinking for a while that boys are divided into two general classes – within which we can obviously find different and varied nuances – That Poor Unfortunate (also called TPU) and the One Who Makes Us Beat The Heart (abbreviated as WHB).
We don't like TPU.
WHB we do.
Easy and painless (more or less).
How to recognise them?
If WHB sends us a message that we would define "so-so", or simply "stupid" , we will always be able to find a nice shade to it, a nice twist or a profound justification; but if TPU is sending it, then not even quoting Shakespeare would be able to move us. He probably also tries hard, thinks about it, writes, deletes, rewrites it. He could make up the most varied excuses just to get in touch with us. But nothing. He would not be able to  move us from the usual politically correct answer.
(Good to say that the TPU of one person could be the WHB of another one… so never give up! But since Cupid is a bastard, I wouldn't count too much on this.)
I've been staring at a text message for about twenty minutes wondering if it's worth going out with this guy.
As I have already said several times, I work with words, so for this reason I find them quite fundamental. And, if I can accept some slips, some embarrassment, some too many leaps in a conversation (nobody is immune to this, alas, I go for periods), in a text this is not acceptable.  In short, writing gives us what the voice cannot, time!
It would be nice to always have the answer ready, witty, funny and in perfect diction. But this is rarely really the case.
That's why I think hiding behind the writing was such a quick step. Once the sentence is displayed, you have time to absorb it, answer, correct, rewrite, use a better form.
If you are not able to stun, tease, intrigue even with any trick available, entire hours, to reply to a message, let alone live!
Of course, there is always the exception to the rule, the one who is a born speaker and hates having to chat on a cold device. But in addition to being rare, these specimens should adapt to the new courtship. – And I must say that I hate this new courtship, and that I would go back to the old wall / pub / bar / square instantly. –
So here I am, staring at his invite to go out.
The point is, I don't think that's really what he wrote the problem! (although not exactly thrilling) The "problem" is WHO wrote it.
whb, sent me less attractive messages, yet I went nuts. And now instead, it is twenty-five minutes that I think "so, what should I say to this dude?".
Let's face it, my girls, the sender is not only important, it is fun-da-men-ta-l!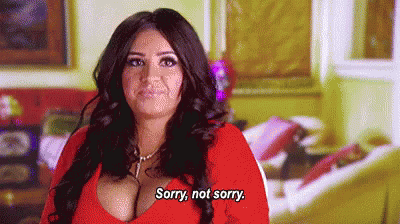 I could stay here other fifteen minutes to tell myself that it's the fault of the message, the words, the punctuation, but the hard truth is that this guy is definitely a TPU, he could write a song for me and it would have the same effect as having to eat a hot minestrone in the middle of August; and then the question arises, is it worth the effort? Could it be that as in the sitcoms by insisting on TPU, we switch to WHB? (examples: Ross in Friends, Leonard in TBBT) or is life much more like a drama, and will a TPU always remain a TPU? (like Jorah in GOT or DeLuca in Grey's).
I guess I would have to go out with him to find out.
Thirty-five minutes.
I re-read the message.
I make a face.
Okay, now I'm going to answer …
Poor TPU!