Do you remember when I told you that it would be a privilege for an actor to be able to play a character with a personality disorder, because with a single script it could vary immensely and show all the nuances of his skill?
Which is very difficult, which is perhaps the most difficult role ever?
Here it is.
I had not watched Tatiana Maslany transform herself into 7 clones yet!!!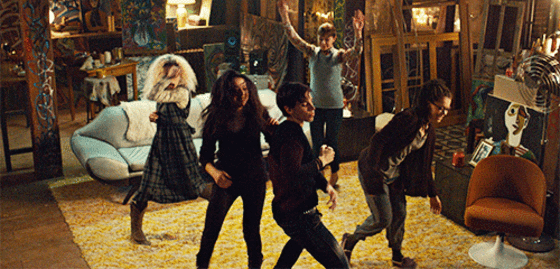 «You Have to watch this series, you absolutely have to watch this series. Did you start it? Did you finish it? So???? »
I had never seen my friend Veronica so obsessed, she is usually posed and rational, she lists the pros and cons of any decision, but she has literally gone mad for Tatiana Maslany and the incredible, almost inhuman, talent, shown in acting as many as 7 (I say it again:7 !!) characters in the TV series Orphan Black[1].
And, I repeat, considering that my friend is not easily enthusiastic, at the millionth time she wrote me on whatsapp to tell me to watch this TV series I did it.
I turned on Netflix (now almost the only source of my film choices) and I started it.
Tatiana Maslany aka Sarah, Helena, Alison, Cosima, Rachel, Beth and Krystal (not to mention the secondary clones) is truly something extraordinary!!!!! An unheard-of talent, which alone manages to hold the entire show!
Not that it is not worth seeing it also for the plot, don't get me wrong, but the basic basis – which is science fiction, thriller, drama, topped with plenty of black humour and an amazing Chinese box of reflections on identity, on the mother – daughter relationship, sisterhood, feminism. And a profound reflection on genetics – I had already dealt with it with novels such as "The Third Twin", "Causa di forza maggiore[2]" (which I will certainly talk about in other articles!); it was Maslany who convinced me to go on. Her, because as I watched her, I forgot it was the same actress who did all the parts and I found myself complimenting the new arrival.
 Tatiana again.
To help her move from one clone to another, Tatiana uses specific playlists for each of her creatures, and each clone has its own specific dance.
She also studied a particular accent, a way of speaking, touching her hair, eating, different for each of the Sestras (as the eccentric killer Helena calls them).
I really like the topic of clones, and with each episode we wonder if they have free will and the right to have a normal life, or are they just biological experiments that must be controlled, impregnated, sterilized, supervised ?!
It is an important and current topic, given the advances in medicine and scientific research. For heaven's sake, we are trying to replicate cells to integrate tissues, not to recreate clones, but … the question remains. Are they entities in themselves, or just duplicates? Autonomy or control?
A theme that is not specific to molecular science, but that can be applied to any novelty that scares us a little, which puts us in wonder.
I think this TV series deserves to be seen by the masses, beyond the talent of the Canadian actress that I will never be bored to talk about, precisely for this central fulcrum in which every choice is questioned.
There are many "enemies" and "fake allies" of Sestras, but are they really categorizable in the classic "good and bad"? Or are they just people with different points of view from ours? And what is the truth? Who is right?
I absolutely have to thank Veronica for pushing me (almost forced) to start it, I finished the first 4 seasons in an Autumn and now I look forward to the 5th, the last conclusive season.
I'm curious to know if there will be new clones (even if my favourite will always remain Alison, the desperate housewife!), if all the answers will be finally answered and above all, how will we survive later, without the Sestras anymore?
It is a series that you have to follow carefully, so a rewatch will certainly be necessary.
What's next?
I don't know, but in the meantime, I await June 10 as the groom awaits his beloved at the altar, as the swallow awaits spring, as … okay you get the point!
---

SEVEN GLASSES FOR SEVEN SESTRA
Alison
Salmon and Avocado Cream – chic and appetizing

(recipe from my mom)

-1/2 avocado
-1 teaspoon of Philadelphia
-1 tuft of dill
– 1 slice of smoked salmon
– ¼ of lime

– Salt and Pepper To Taste.
We cut the avocado in half, removing it from the core and peel it, cut it into chunks and pour it into the mixer. We add the lime juice, the Philadelphia, a pinch of salt and pepper, then whisk until a homogeneous cream is obtained.
We pour the avocado cream into the finger food glass, place the slice of salmon on the surface and decorate with the dill and put the glass in the fridge for 15 minutes.
Just like Alison, this recipe is practical, fast but extremely tasty! Drink: Alcamo Grillo Doc.
Sarah
Beer Onion Cream – hasty and poor

(recipe from my mom)
– 3 tablespoons of light beer
– 25 ml of cooking cream
– 15 g of speck
– 75 g of onion
– ¼ teaspoon of brown sugar
– cinnamon to taste
– 2.5 dl of milk
– cloves to taste
– Salt to taste.
– 8 g of butter
– ¼ tablespoon of flour
– ½ slice of rye bread

– 1 yolk
Finely slice the onions and let them dry with the butter. We combine ¼ teaspoon of brown sugar, 2 tablespoons of beer and cook on a low flame for 6-9 minutes. After the time, add the flour, mix for 1 minute, pour 2,5 dl of boiling milk in a drizzle and cook for another 10 minutes, stirring constantly. We perfume with a touch of powdered cloves and a little cinnamon, salt and blend.
Meanwhile, cut the rye bread into cubes and toast it in the oven. We weigh 15 g of slices of speck not too thin and reduce it to strips, then brown it in a non-stick pan until crispy. We beat the egg yolk with the cream, add the last spoonful of beer left and pour everything in the "bechamel" with the onions.
Bring back on the flame, turning with a whisk and turn off at the first hint of boiling. Pour the cream into the glass, dip the croutons and sprinkle with the speck.
Personally, I don't like onion, on the contrary, but Sarah gives me the idea of ​​someone who always eats poor food and watered with beer in a hurry. So here's his shot glass and his beer: Granny Mary's Red Ale.
Rachel

Octopus salad on a bed of potatoes – refined and impactful

(recipe from Anna)
– 25 g of potatoes
– 30 g of octopus
– 3 teaspoons of extra virgin olive oil
– ¼ lemon
– 0.50 g of parmesan flakes
– 5 g of rocket
– 0.75 g of parsley

– Salt and Pepper To Taste.
We take the ready octopus otherwise it will take a lifetime and it will not be worth it … once thawed, we season it with the grated zest of the lemon, the chopped parsley, 1 teaspoon and a half of oil and salt and pepper to taste, we cover it with plastic wrap and let it flavour in the fridge for forty minutes.
In the meantime (while watching an episode …) we peel the potatoes, cut and boil them and put them in the mixer with the rest of the oil, some cooking water, lemon juice and salt and pepper always to our taste. We have to blend until reaching the effect of a velvety.
We leave to cool, then we put the velvety in the glass, we put the octopus, the arugula, the parmesan flakes on top and adjust the pepper.
This recipe like Rachel is articulated but absolutely excellent! Drink: Nettuno Rosato Doc.
Cosima
Guacamole and Curry Shrimp – experimental and spicy
(recipe from John)
– 100 g of tomato
– 1 avocado
– mustard
– mayonnaise
– 100 g of shrimp
– curry
– ¼ of chili pepper
– ½ egg
– lemon juice

– extra virgin olive oil
We remove the avocado pulp and mash it until it becomes a puree to which we add the lemon juice, the chili pepper and a little olive oil. Let's mix it all up.
We remove the tomato skin and divide it into cubes and then add them to the avocado.
Add the guacamole we have just prepared as a base and pour the shrimp dipped in curry over it, add a little mayonnaise and mustard to taste. We keep in the fridge until we want to taste it.
Cosima is the one who throws herself and experiments, for her I thought of a delicious recipe with an intense flavour. Drink combination: Colli Orientali Del Friuli Malvasia Doc.
Krystal
Tartare Burger – colourful and unconventional 
(web recipe)
– 2 tablespoons of Greek yogurt
– lime juice to taste
– Salt and Pepper To Taste.
– extra virgin olive oil to taste
– 175 g of Fassona beef
– 1 handful of fresh spinach leaves

– 2 slices of cereal bread
– ¼ of radicchio

– 1 tablespoon of grated Parmesan
We flavour the Fassona beef with a sprinkle of extra virgin olive oil, salt and pepper immediately.
We cover the first slice of bread with fresh spinach and place a bowl of pasta on top to fill with the tartare. We press well to ensure that the burger remains cohesive and we carefully remove the ring.

We crumb the radicchio and place it on the meat tartare. We have everything in the glass.
We season the Greek yogurt with lime juice, grated zest, salt and pepper and pour it over the radicchio.
For the parmesan waffle, place the grated cheese on a sheet of parchment paper and melt in the microwave until the waffle has formed (check every 30 seconds or burn it!).

We complete the glass of tartare with the parmesan wafer and the second slice of bread.
Kirsten is a nice girl who is attracted to the colours and in my opinion, she would greatly appreciate this particular and tasty dish to combine with a Bellini Cocktail.
Helena

Wafer, Strawberries and Chocolate – greedy and colorful


(the recipe is mine)

– 2 hazelnut wafers
– 150 g of cottage cheese
– strawberry yogurt
– 2 very red strawberries
– honey to taste
– cocoa powder to taste
– 100 g of mascarpone
– chopped hazelnuts

First of all, let's crumble the wafers and put them as a base, separately mix ricotta, strawberry yogurt, mascarpone and honey and begin to put the cream obtained in the glass according to our artistic inspiration. Cut the strawberries and let them fall on top, then decorate with cocoa and chopped hazelnuts.

The red of the strawberries recalls Helena's shed blood, but the chocolate, honey, cookies are the sweet touch she loves!
Drink pairing: Cappuccino with almond milk.

Beth
Rum Passion – alcoholic and complex
(web recipe)
For the cocoa biscuit
– 15 g of flour
– 4 g of bitter cocoa
– ½ eggs

– 20 g of sugar
For the Rum Jelly
– 25 g of dark rum
-25 g of water
-15 g of brown sugar

– ½ sheet of jelly
For the cream
-65 g of mascarpone
– 40 g of fresh liquid cream
– 20 g of icing sugar

– ¼ teaspoon of vanilla extract
For the caramelized pears
– ½ Abate pear
– ½ tablespoon of brown sugar

– 1 tablespoon of dark rum
Preparation:
Soak the jelly sheet in cold water. In the meantime, bring the water to the boil with the brown sugar and leave it on the fire until it is completely dissolved. We withdraw from the heat and add the well-squeezed jelly, stir frequently and add the Rum. We pour into a rectangular container and let it thicken.

We prepare the cocoa biscuit by whipping the eggs with the sugar until a swollen and frothy mass is obtained. We combine the sifted flour and cocoa several times, gently assimilating them with a spatula. Pour the product into a cake tin and bake in a hot oven at 180 ° for about 8 minutes.

We prepare the cream by mixing mascarpone with icing sugar and vanilla extract until a smooth and soft mixture is obtained. We whip the cream and gently unify it with mascarpone with movements from the bottom upwards.

We peel the pears, removing them from the core, cut them into small pieces and put them in a pan with the sugar and rum, bring them to the fire and cook until the liquid is absorbed and the pears have taken on a caramelized appearance.
We compose the glass by pouring a layer of cream on the bottom with a piping bag, cover with a disc of cocoa biscuit cut out with a cup-pasta. We insert the diced jelly and a cocoa biscuit hemisphere, pour another layer of cream and finish with the caramelized pears.
This is the most complex recipe, I think it reflects the difficulties that Beth had to suffer in her journey, the touch of Rum is the fall, the alcohol is letting go. Unfortunately, with no return.
Let's toast Beth with Lamb's Navy Rum
enjoy!!!
---
[1] The title "Orphan Black" refers to orphans "in the black" who were hidden during the harsh policies of Margaret Thatcher.
[2] Amelie Nothomb.