I have always loved Batman.
It is perhaps the only DC hero I appreciate, and it is definitely the comic with the best villains ever! It was my brother who made me approach comics, PKs, Marvel sagas especially (although I am then obsessed with x-men and he prefers avengers), but the love for batman was born by himself and it is totally and inextricably stabilized with the trilogy of Nolan (an absolute masterpiece shredded away by that horrendous new Batman on the screens put next to that vapid of Superman).
So when I heard that Fox was making a prequel based on Gordon and the villains, I could not resist, I waited impatiently and a bit of torment because of the few poor films in which the bad guys find themselves being good and the choice to be the protagonist by Ryan's of The OC (Benjamin McKenzie)…
I was not very convinced.
In addition, for personal reasons I could not see it "live", in fact, I had to wait 'til the end of October, avoiding spoilers and comments.
And then I finally sat down, I turned on the pc and with a nice plate of polenta * since it was  incredibly cold, I opened a bottle of Valtellina Superiore   (which I did not finish by myself …) and lastly I could see "Gotham".
 I was ready  for the worst.
And instead!!!!

Wow!
Wow!
Wow !!!!
This TV series is amazing !!!! Let's start from the Penguin, one of the less glamorous villains of comics, not only for the look but just for the motivations, here he's absolutely central, fabulous and not at all minor! It will also be due to Robin Lord Taylor and his scratchy voice, but it's THE character of Gotham.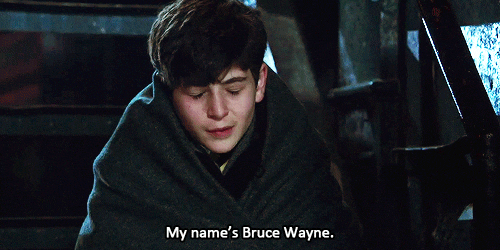 By no means  other characters are less relevant, starting with the small Bruce (David Mazouz), with his teen-age problems and interior conflicts, very different from Batman, but true, genuine, pleasing.
And then Nygma (Cory Michael Smith) and the first steps towards madness and its dangerous and beautiful games that had already fascinated me in comics.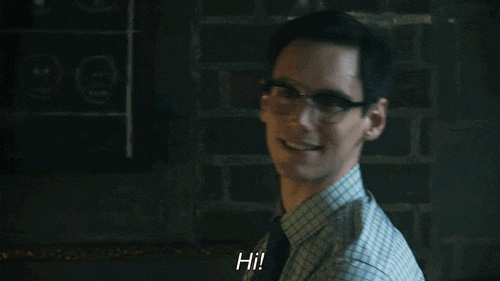 Fish Mooney, one of the characters made precisely for the show, is incredible. To make it unsurpassed is not so much the good story that the series has offered her as the gentle, multiple and extremely strong interpretation by Jada Pinkett Smith.
Each character has strong and profound but not trivial motivations to act as he/she does: the derision of the young Joker, the solitude of Catwoman, Harvey Dent is affected by a clear, severe bipolar disorder.

In short, I was not disappointed at all, in fact, I practically devoured the first season and although the second left me a little perplexed for some questionable and inconclusive choices, I think that Gotham remains one of the best products in the field "comics" and " Gothic". And also Ryan from The O.C. (unfortunately for me it will always remain him, a bit like Daniel Radcliffe will always be Harry Potter) turned out to be a real positive discovery!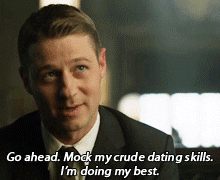 A totally unexpected talent, capable of not making the Gary Oldman[1]'s Gordon miss too much.
Now I have higher expectations, I wonder if they can keep them at that level, otherwise, I will watch, in loop, the first, fantastic, season!
Polenta meatballs with meat sauce
(from my dear friend Anna)
Ingredients For polenta.
-1 litter of water,
-250 g of corn flour
-half a spoon of olive oil,
-a small intake of coarse salt.
-3 eggs
-40 grams seasoned cheese
– Salt and Pepper To Taste.

 Necessary for the sauce:
– 15/20 pork ribs,
-400 g of fresh meat sausage
– 1 Garlic clove
-4 tablespoons of olive oil,
-Salt and Pepper To Taste,
– 700 g of tomato sauce.
Method: 

Let's start by preparing the meat sauce!In a pan we pour the olive oil, add a clove of garlic. We let it cook over a low flame for a few minutes and then add the pork ribs (I prefer to remove the garlic first). We leave the ribs to brown slowly stirring often, after about 20 minutes add the sausage of meat cut into small pieces, mix from time to time, cover and continue cooking over low heat for at least another 10 minutes or anyway until both ribs the sausage will not be well cooked. Then we add the tomato sauce, stir and cook for about 45 minutes on a low heat and stirring occasionally. A few minutes after the end of cooking we adjust salt and pepper.We switch off and keep aside.In a pot large enough  we heat the water.Just before it reaches a boil, add half a shred of olive oil and a handful of coarse salt, slowly pour the flour into the rain, stirring constantly to avoid the formation of any lumps.We continue cooking for another 35/40 minutes always stirring!When cooked, let the polenta cool down a little and when it is lukewarm add the 3 egg yolks and the aged cheese and mix well.We form small balls of polenta, as large as a nut, giving them the shape of a meatball!Then we place them on a baking tray covered with baking paper and pass them in the oven at 200 degrees for 10 minutes.Then, still very hot, lay our polenta meatballs in a dish and then pour over a generous ladle of meat sauce.
Add a sprinkling of Parmigiano Reggiano and … enjoy your meal. 
---